The times they are a' changing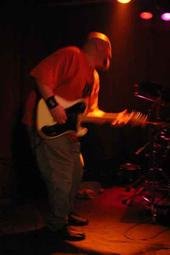 I'm a week away from a pretty significant change in the life of me and I'm having that weird sort of melancholy laced with excitement that expected change can bring, (unexpected change just sends me into blind panic). Next Friday night will be Wesley's last show as the guitarist for the Pharmacy Prophets. We've had a good run, longer than either of us ever imagined it would be as the band at its genesis was supposed to be a recording project and maybe two or three shows. We kinda blew that out of the water.
It all started with the untimely and horridly sad death of my boss and great friend John Kidner, (of Kidner Transport fame on this here blog). John had been sick for a while and even had an organ transplant but was supposed to be on his way to recovery when the cancer roiling around in him decided to go on a Genghis Kahn style assault and fuck him up royally. John died and I was really pretty heartbroken about it as were all his friends including Jane and Steve Negrey, the owners of Iota. Jane was a classmate and friend of John's from elementary school and we decided it would be cool to do a benefit show in his honor maximum rock and roll style.
It would be my band Luka Brazzi, Vanity Champ, (Shaun Brennan ex VC and now fronting rock juggernaut Kung Fury was a longtime inmate in the Kidner Transport looney bin) and some friends in Quitter U.K. It was all to the good until it turned out that Luka could not only not do the show but we were breaking up for good immediately and with no delay. Oh my thinks I!
I should have done the smart thing and cancelled but Kidner would have haunted me till the end of my days if I had pussed out like that. I decided that I would put together a band for this one show and play a bunch of songs I had written for Luka and then get back to my life as a bass player non-parallel. With all the awesome bros I had made over the years putting together a band would be no problem and I would rock out as a front-man one time and humiliate myself in John's honor. I figured he would appreciate it. I started calling the bros and had the same conversation over and over and over –
Bro - "So who's going to sing?"
Me – "I am"
Bro – " Dude you're the bass player"
Me – "Not in this thing, it'll be fun. Can you do it?
"Bro – "Ummm…no, like I'm having pre-op transgender therapy treatments that night. Sorry bro."
Click
Damn! I was going over my mental rolodex and thought about Wes. Wes and I had been in a prog-rock metal band years before that ended with me being choked by our drummer and the cops coming to break up the bar fight that ensued shortly thereafter. It was not the kindest of endings and I had very little contact with big Wesley in the years that followed. I figured I could give him the opportunity to hang up on me as I had done for the rest of my bros so I called him up and we chit-chatted for a bit and he finally asked me what I wanted. I told him and waited for the excuse and hang-up. He said – "Let's get together tonight and start working on the songs. Being in a band again together will be fun."
Just like that, no questions or second thoughts just a friend being cool and giving me the benefit of the doubt. Very strange but he is at heart a strange man which worked very well to my advantage in this case. We met up that night and got right down to it and he quickly ascertained two things. One was that he dug the songs that I had written and two that it was going to be quite the project getting me converted from bass player to guitar player/singer in less than three weeks.
We still had to find a rhythm section and things were looking kinda sketchy but we had a show to play so damn the torpedoes and lock up the women and all that. We also started talking about recording all the stuff in Wes' home studio and making a record of sorts out of it. The more we talked the better an idea it seemed like so we decided to do that. We would get a drummer to record drum tracks and then do the rest ourselves with me playing bass tracks and singing and Wes doing all the guitar shit. Much like the band itself that simple project got blown out of all proportion and the next thing we knew there were viola players and back-up singers and all sorts of crazy shit coming in and out of the studio. That process eventually became our record, "Songs of Death and Happiness".
First things first though we had the Iota gig to get through. Wes called up a doode he knew who agreed to step in on bass for a night and my old roommate/bandmate Eric, (now in the Pods), was kind enough to play drums. We worked up a set and did the show which went surprisingly well. I think Kidner dug it as my walls haven't started bleeding and my kids haven't been sucked into the TV set Poltergeist style as of yet. So there we were, we did the show and then it was….over? The show was really fun for me and Wes and Eric, god knows what the bass player thought if he was really capable of thinking much at all.
After that show I got some calls about setting up more shows and an email from Henry Rollins looking motherfucker Jeff Jones. "Good show, if you don't let me be your bass player I'll kick your narrow ass."
So now that we had the bass player issue settled we started to record the album and play shows and generally have a good time but this was all still totally new to me being a singer and frontman and guitarist. I got nerves before shows which had never happened when I was playing bass. The nerves resulted in me being in the bathroom at the club puking my guts out while Wes set my guitar up for about the first seven or eight months of the band. Maybe it contributed to the gravel in my singing voice, who knows? Eventually that stopped thankfully for me and the doodes lined up behind me for the crapper.
The band sort of took on a life ot it's own and we just rolled on and on. We played good shows and bad shows and met great people and told some others to go suck a wang. Eric left to pursue his masters in classical composition, Jeff a few months later because it was time for him to do so. Phil Rossi stepped in on bass after I took the Jones approach and threatened him with violence if he didn't join up and he brought his old drummer Ben into the fold when we needed him.
So now three years later with all the changes that have occurred and with all the different things that we all want to do it's time to put a lid on this version of the Pharmacy Prophets. We have had three bass players and six drummers all told and after Friday I'll be the only original member left. Kinda weird but it all feels like it is where it should be. Wes and I are better friends now than when we started the band which is an absolutely unbelievable happenstance given my proclivity for over-reaction and intense paranoia driven personalization of everything that happens around me. It's just time. Weird, cool but weird.
Wes has been helping our new guitar player get up to speed and we're all being so mature about the situation that I kinda want to kick my own ass for being such a grownup. But it is sad for both of us and I'll miss the dogshit out of playing with Wes, he's kinda the main reason I'm still out there playing at all. I owe him a lot and I'll do my best to send him out in a grand fashion.
Next Friday, April 29th, at TT Reynolds in Fairfax
Exit… Stage Wes.